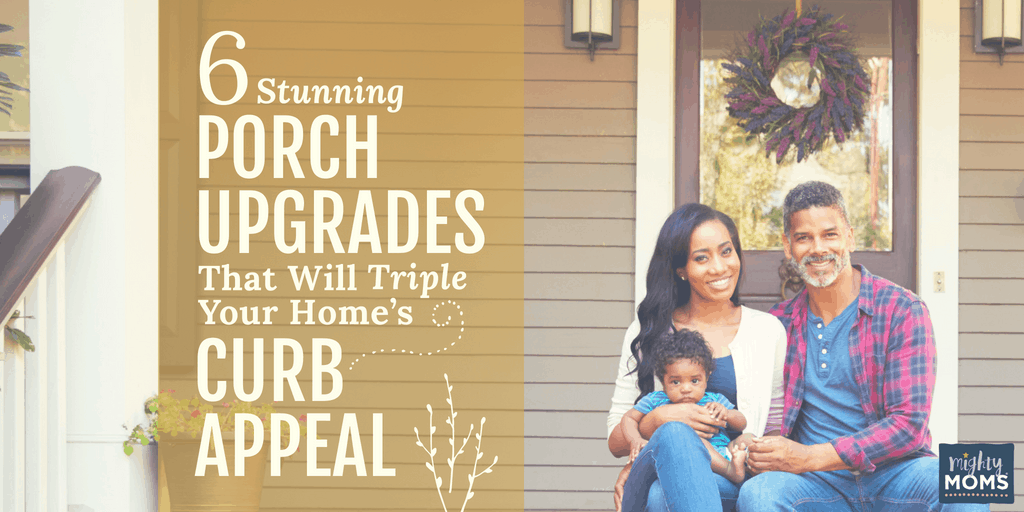 So I realize that we don't normally do decorating posts here on Mighty Moms…but I couldn't resist on this one.
The challenge, of course, is that we don't all have a massive budget for Fixer Upper Magnolia originals. Here are 6 easy ways to upgrade your home or condo's curb appeal, for any budget.
How to Boost Your Curb Appeal
Add more greenery at the entrance of your home.
Encourage more birds to greet your guests.
Tank up on textiles to add splashes of color.
Go beyond flowers and shrubs—add architecture!
Show off your porch in the right light.
Entice folk to stay awhile with comfortable seating.
Obviously, prices change! These are just the prices that were advertised when we created the graphics. If you like something, I would recommend picking it up quickly to avoid price hikes (or shortages) later!
Porch Upgrade #1:
Add More Greenery
This is, by far, the simplest curb appeal hack. It's amazing what a few well-placed pots can do to soften the front door and make your entryway more inviting. Even if it's just the UPS guy, it will be a soft respite moment in a long day of traffic annoyances!
As a reminder, prices may change, so act quickly!
Adding Curb Appeal with Greenery
Under $25
1. Jute Planters ($12) | 2. Self-Watering Baskets ($23)
3. Fern & Grass Wreath ($23)| 4. Briarcliff Ceramic Pot – multiple colors ($26)
Under $50
1. Olive Branch Wreath ($45) | 2. Ceramic Pot Planter ($41)
3. Large Birch Planter ($32) | 4. Forsythia Wreath ($37)
Under $100
1. Ironstone Planter ($55) | 2. Eucalyptus Wreath ($62)
3. Self-Watering Window Box Planter ($71)
Porch Upgrade #2:
Bring in the Birds
Perhaps the Disney princess inside, but I think it would be awesome for you to walk by my house and, as a shaft of light reaches down from the heavens and the First Baptist choir across the street hits a particularly high note, a score of lovely finches flitter down and line up for a Mary Poppins duet on the front porch.
What? Too much?
There are other, more homemade ways to bring in the birds if you feel like doing some crafts with the kids! This article demonstrates how to make a homemade feeder out of peanut butter, seeds, and a pinecone!
As a reminder: prices change, so act quickly!
Boost Your Curb Appeal with Birds
Under $25
1. Grass Hut ($12) | 2. Vintage Hummingbird Feeder ($16)
3. Love Shack ($17) | 4. Peacock Bird Bath ($25)
Under $50
1. Fountain with Pump ($49) | 2. Hummingbird Feeder ($39)
3. Hanging Glass Feeder ($25) | 4. Round Hummingbird Feeder ($36)
Under $100
1. Red Birdhouse ($77) | 2. Teapot Birdhouse ($57)
3. Flower Feeder ($64)
Porch Upgrade #3:
Add a Splash of Color
Wish your porch was a little more "homey"? Add some colorful textiles! From pillows to clever separators to provide "neighbor space" from the porch next door, adding a few bright fabrics will make your front porch a zillion times more cozy. Here are some ideas to get you dreaming.
As a reminder: prices change, so act quickly!
Create Curb Appeal with Color
Under $25
1. Green Accent Pillows ($24) | 2. Moroccan Pillow ($13)
3. Welcome Mat ($17)
Under $50
1. Crymble Doormat ($32) | 2. Striped Pillows ($30)
3. Flower Pillows ($39) | 4. Outdoor Curtains ($30)
Under $100
1. Gatsby Doormat ($70) | 2. Flower Pillows – Set of 4 ($70)
3. Orange Lumbar Pillows ($60)
Porch Upgrade #4:
Add Some Architecture
I discovered something last summer while rummage-sale shopping. I really love Victorian houses. Display a framed print of a Victorian home, and there's a 99% chance I'm going to purchase it. There's something about those "architecturally interesting" frames that draws you in and forces you to look over every (literal) nook and cranny.
You can do the same thing, no matter what your home's exterior, with a few well-placed garden art. Here are a few curb appeal suggestions on how to affordably break up your garden flowers with something tastefully interesting!
As a reminder: prices change, so act quickly!
Add Curb Appeal with Architecture
Under $50
1. Obelisk Trellis ($50) | 2. Leaf Trellis ($20)
3. Spiral Iron Trellis ($27)
Under $100
1. Tower Trellis ($99) | 2. Spiral Metal Trellis ($65)
3. Gothic Steel Arbor ($58) | 4. Wide Iron Trellis ($95)
Under $150
1. Iron Arbor ($108) | 2. Wooden Garden Arch ($125)
3. Planter Box ($113)
Porch Upgrade #5:
Flirt With Romantic Lighting
Your home's curb appeal should be just as gorgeous at night as it is during the day, and nothing helps with that like setting the mood. Those raccoons living in the tree across the street really need the extra procreation motivation, I'm sure.
Raccoons aside, I've found that gentle porch lighting is like a warm bubble bath at the end of a long, hard, day. You pull into your driveway, turn off the car, and take a moment to drink in the peace that's welcoming you through the front door. Cathartic.
As a reminder: prices change, so act quickly!
Enhance Curb Appeal with Lighting
Under $25
1. Swirl Garden Torch ($23) | 2. LED & Speaker Lamp ($25)
3. Solar Spotted Glass ($20) | 4. String Globe Lights ($25)
Under $50
1. Solar Torch Lights ($37) | 2. Rhonda Iron Lantern ($38)
3. Blue Glass Hanging Lantern ($40) | 4. Outdoor Hanging Lantern ($49)
Under $120
1. Outdoor Hanging Lantern ($80) | 2. Post Lantern ($120)
3. Wavy Glass Light ($100) | 4. Pineapple Light ($114)
Porch Upgrade #6:
Make It Comfortable to Hang Around
You remember when the old folks would hang out on their front porches and yell at us as we rode our bikes through their lawn? Yeah…the good 'ole days…except now we're the "old folk". (Yes, even if you're in your twenties, a ten-year-old still thinks you're old.)
Here are some furniture ideas to add to your home's curb appeal and encourage visitors to put their feet up and sip a few (spiked?) lemonades. I mean, you might as well be comfortable while yelling at the neighbor kids, right?
As a reminder: prices change, so act quickly!
Comfy Curb Appeal Ideas
Under $50
1. Glass Patio Table ($43) | 2. Iron Side Table ($40)
3. Cotton Chair Hammock ($25) | 4. Steel Side Table ($40)
Under $100
1. Red Side Table ($98) | 2. Vintage Green Side Table ($99)
3. Cedar Stump Stool ($69) | 4. Hammock Swing ($90)
Under $200
1. Hanging Chair with Footrest ($140) | 2. Copper Bistro Table ($120)
3. Glider Bench ($144) | 4. Wooden Lounger Chair ($130)
Under $250
1. Swing Chair ($243) | 2. Wooden Loveseat ($200)
3. Reclining Outdoor Chair ($214) | 4. Egg Hammock ($202)
Have the Cutest Home on the Block
with a Little More Curb Appeal
I realize I may have gone a bit overboard with all the options. There were just SO MANY I had a terrible time deciding. That said, the more options you have…the more clever ideas you'll come up to display them!
I do want to end this article, though, on a serious note.
These new curb appeal ideas are going to bring a LOT more traffic to your side of the street. There may even been road rage. ("I can't see her flower arrangements over your Ram Truck!")
You really have a duty to society to think through how to handle this new problem. Crossing-guards? Donation buckets?
Best think these things through now, before you unpack your purchases and start setting everything up.
Your local police force will thank you!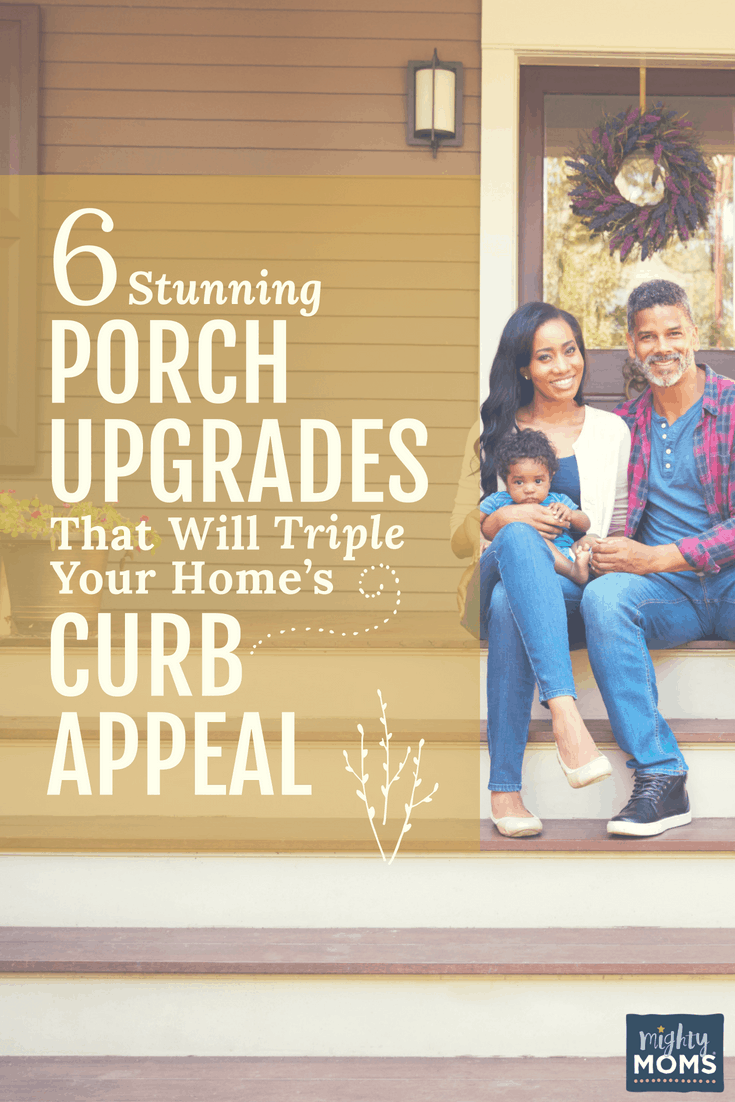 Have You Read These Yet?
[sc name="disclaimer"]